THESE WOMEN HAVE TRANSFORMED THEIR LIVES AND CAREERS.
Women Rising Trailer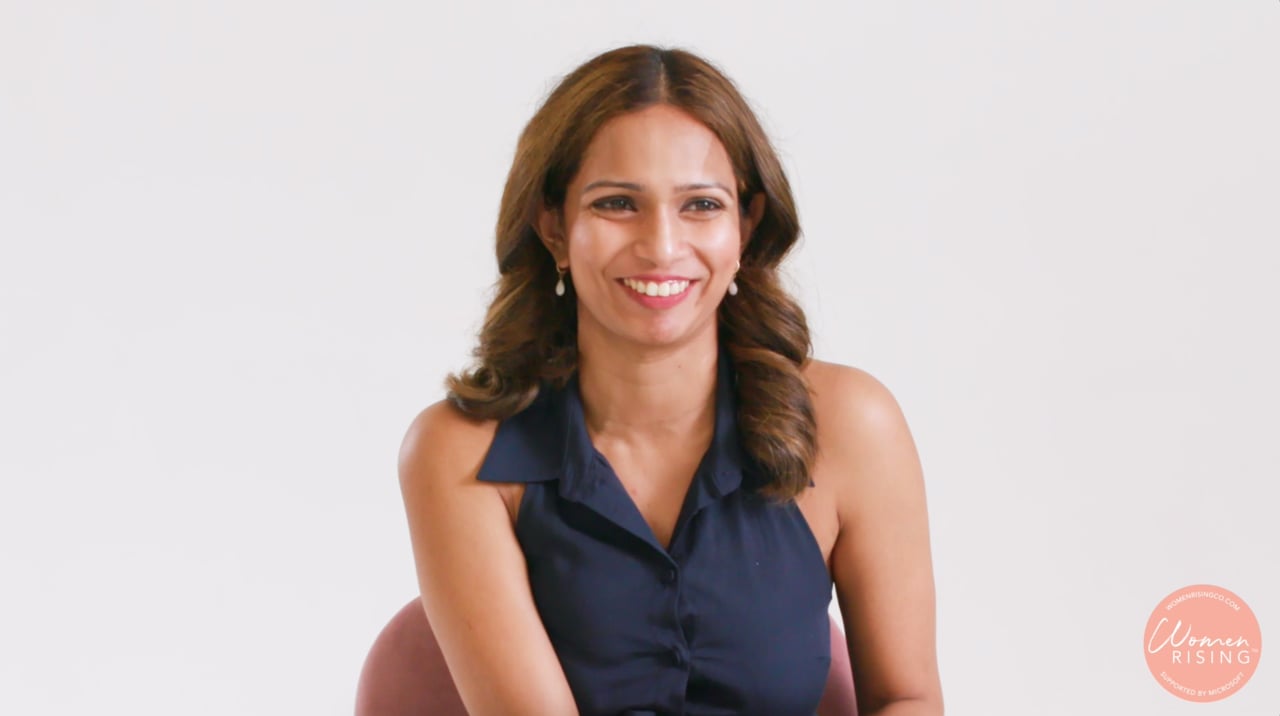 Gina Willard Testimonial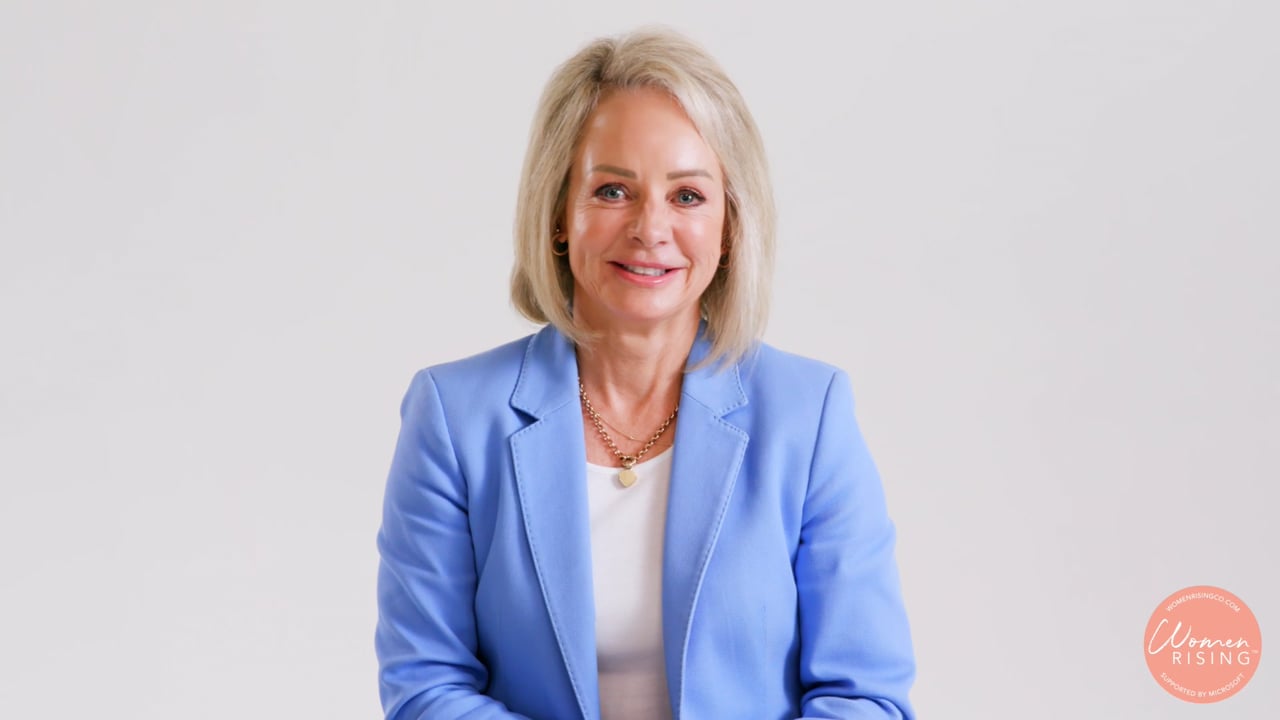 Tiffany Wright Testimonial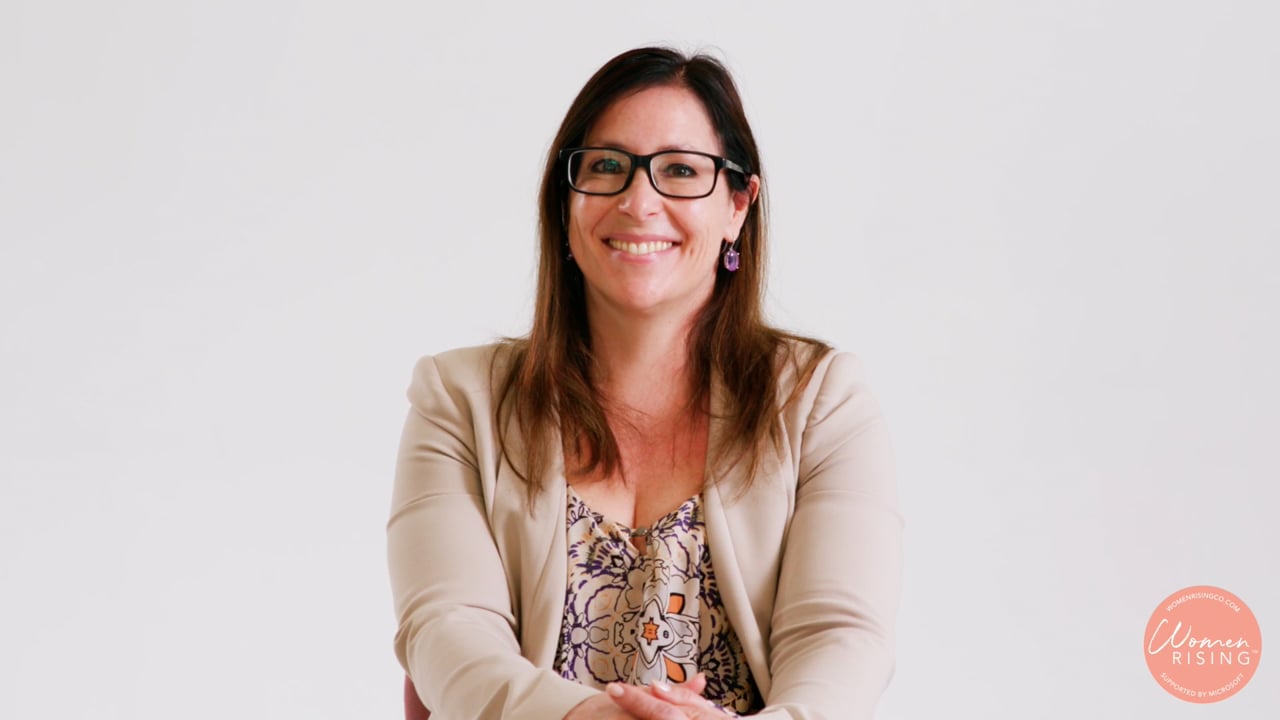 Michelle Markham Testimonial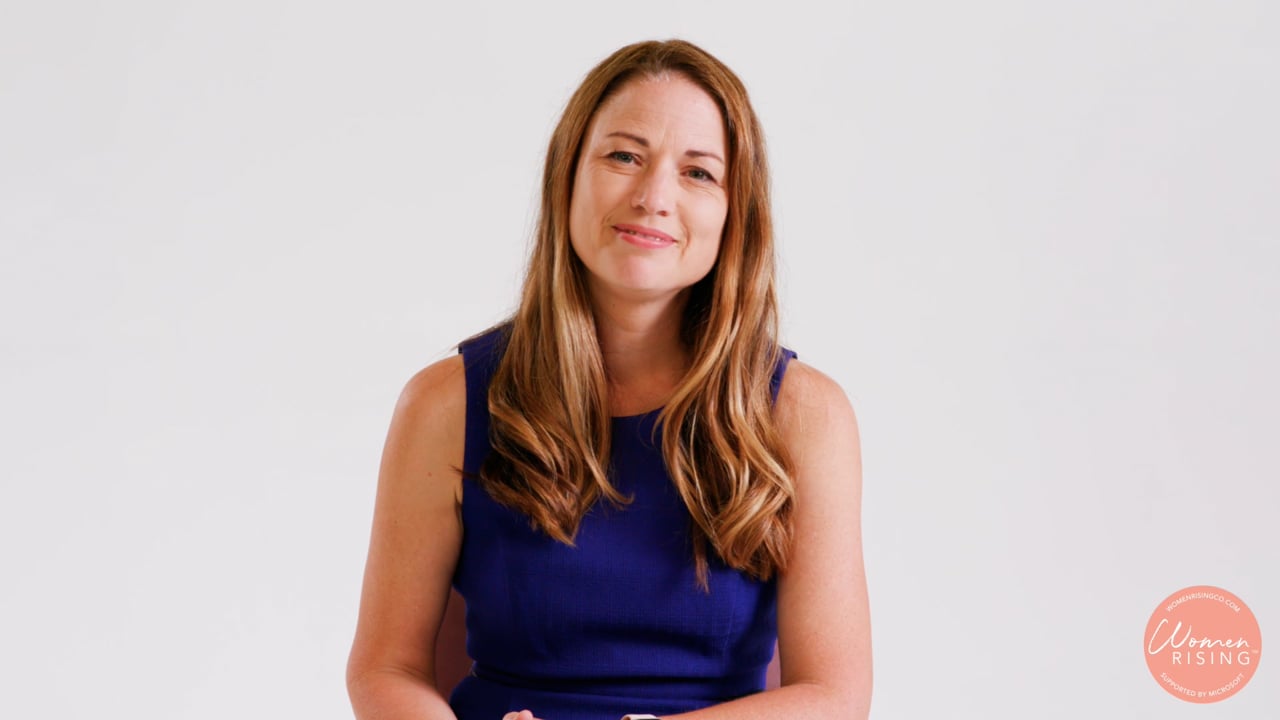 Marivic Testimonial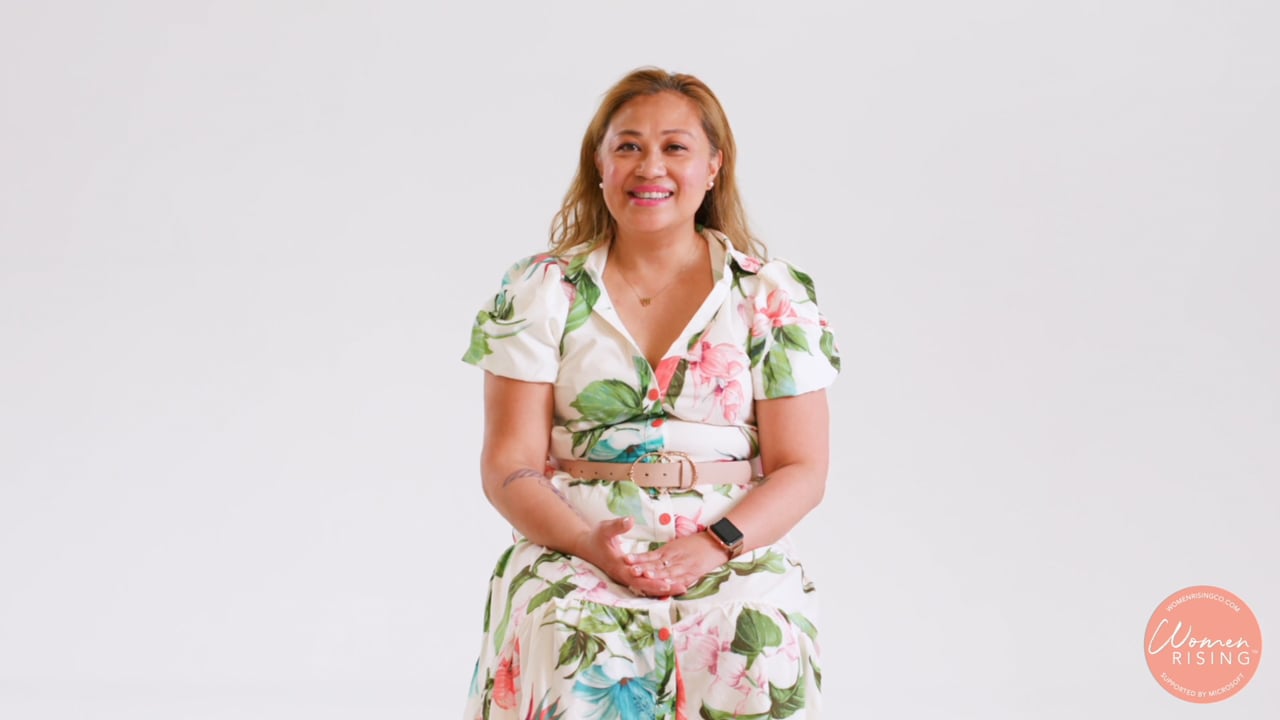 Cassandra Klintfalt Testimonial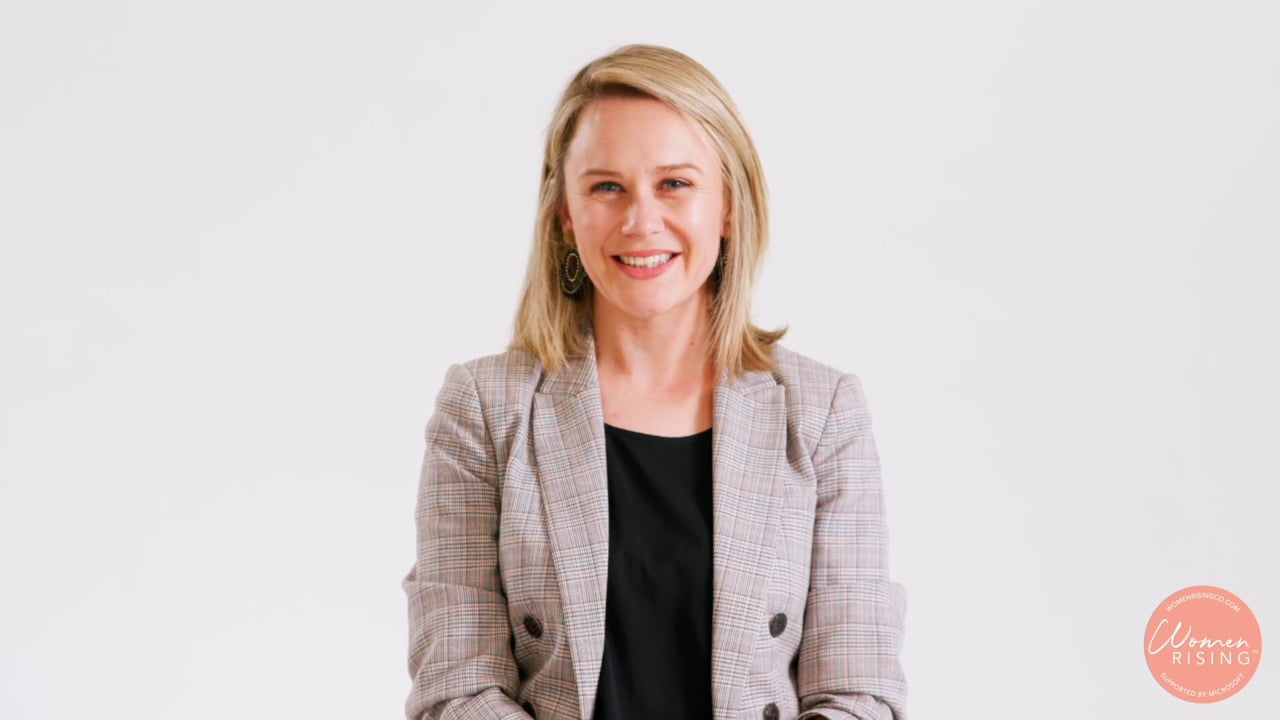 Kushani Sriwardene Testimonial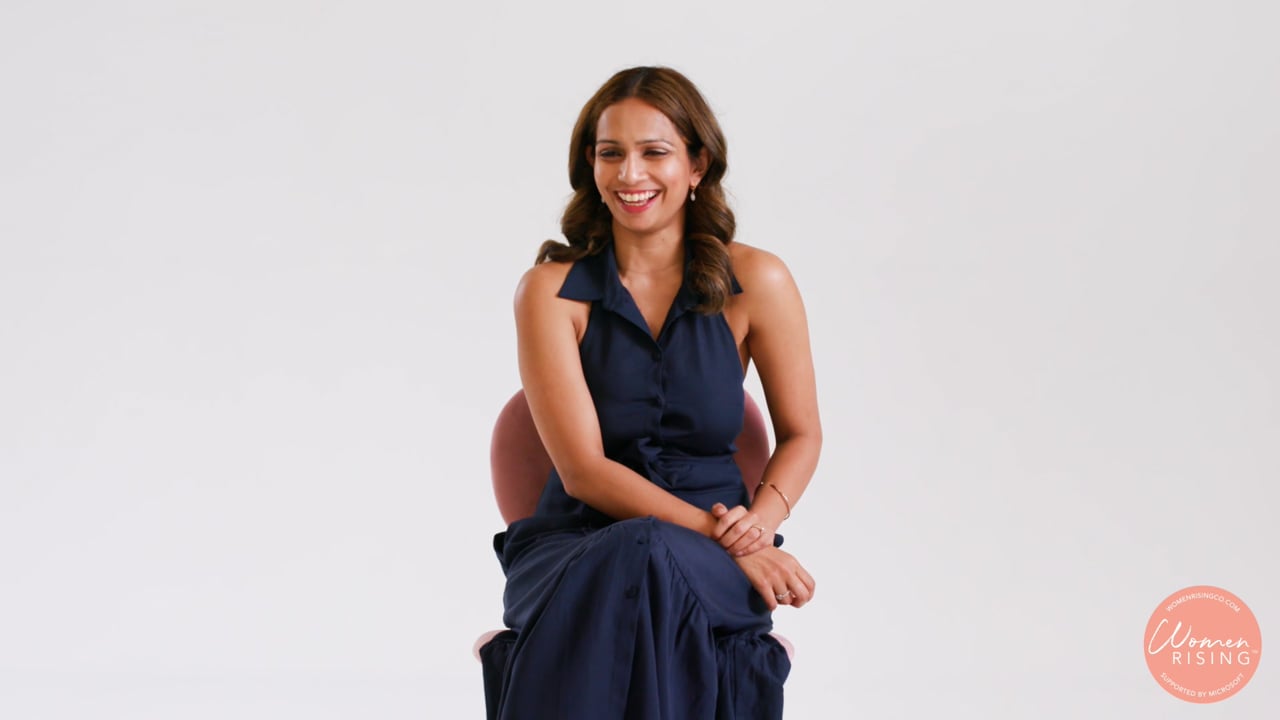 Mike Morgan Testimonial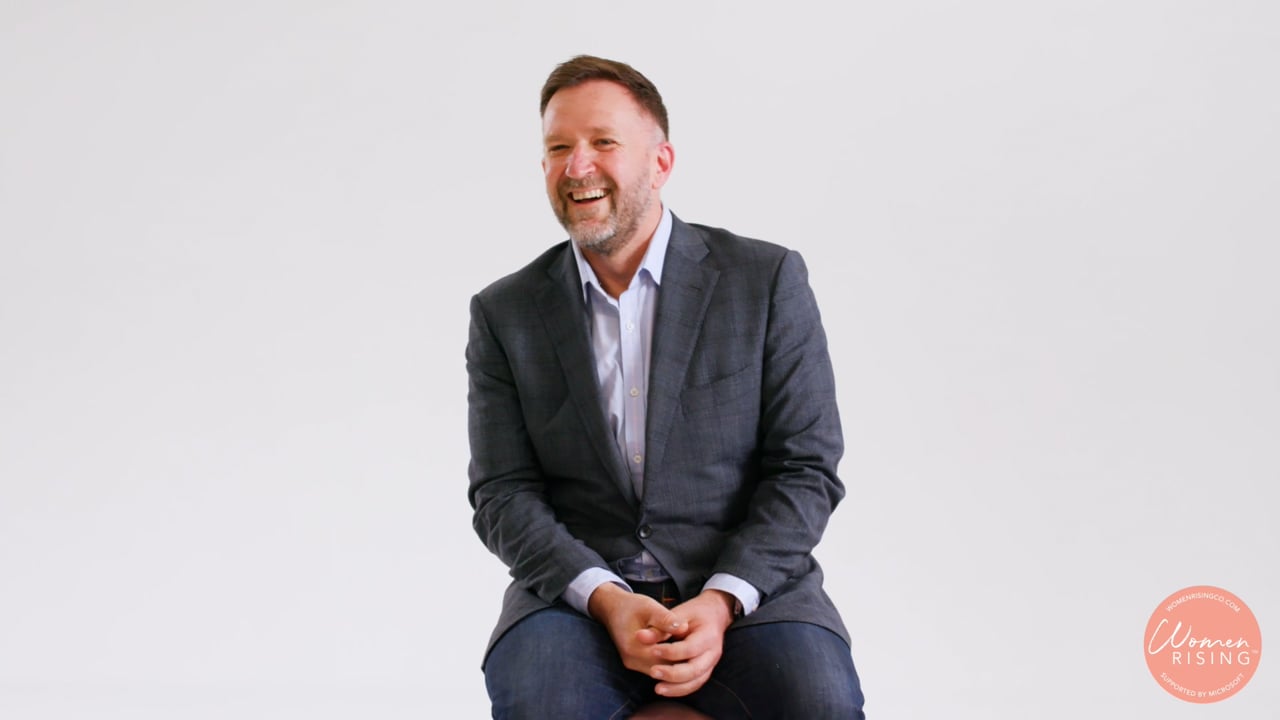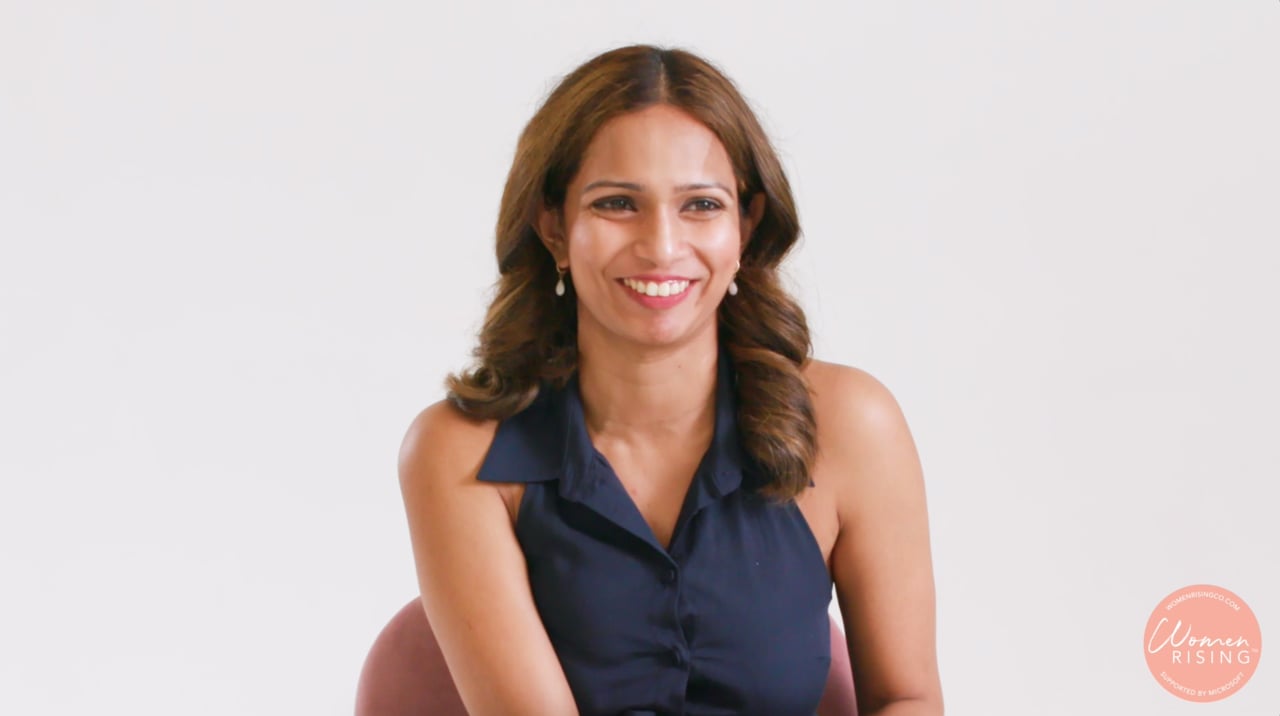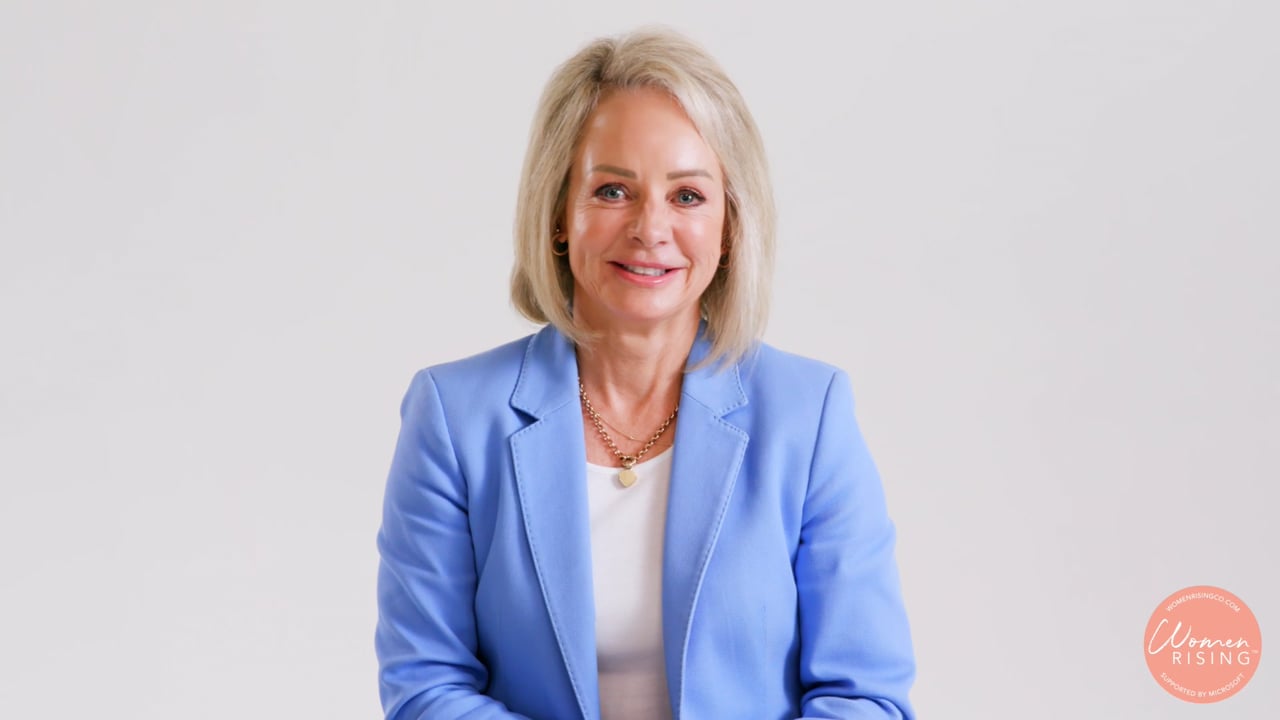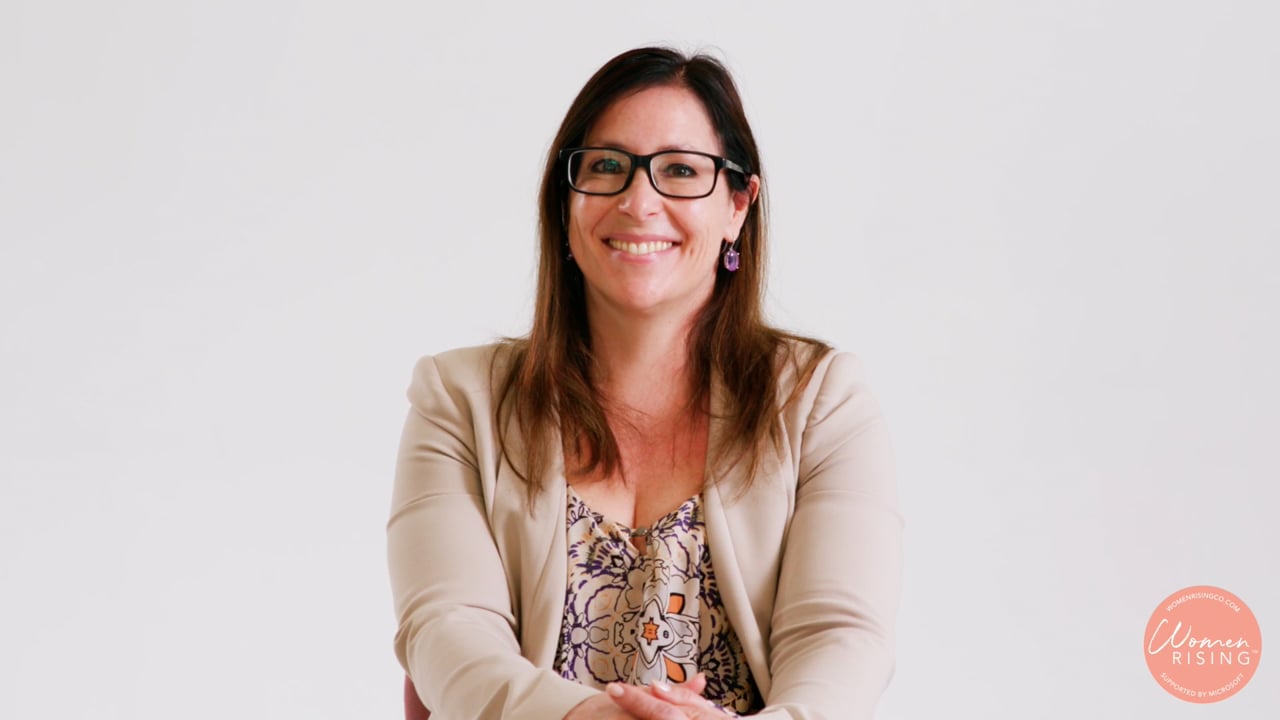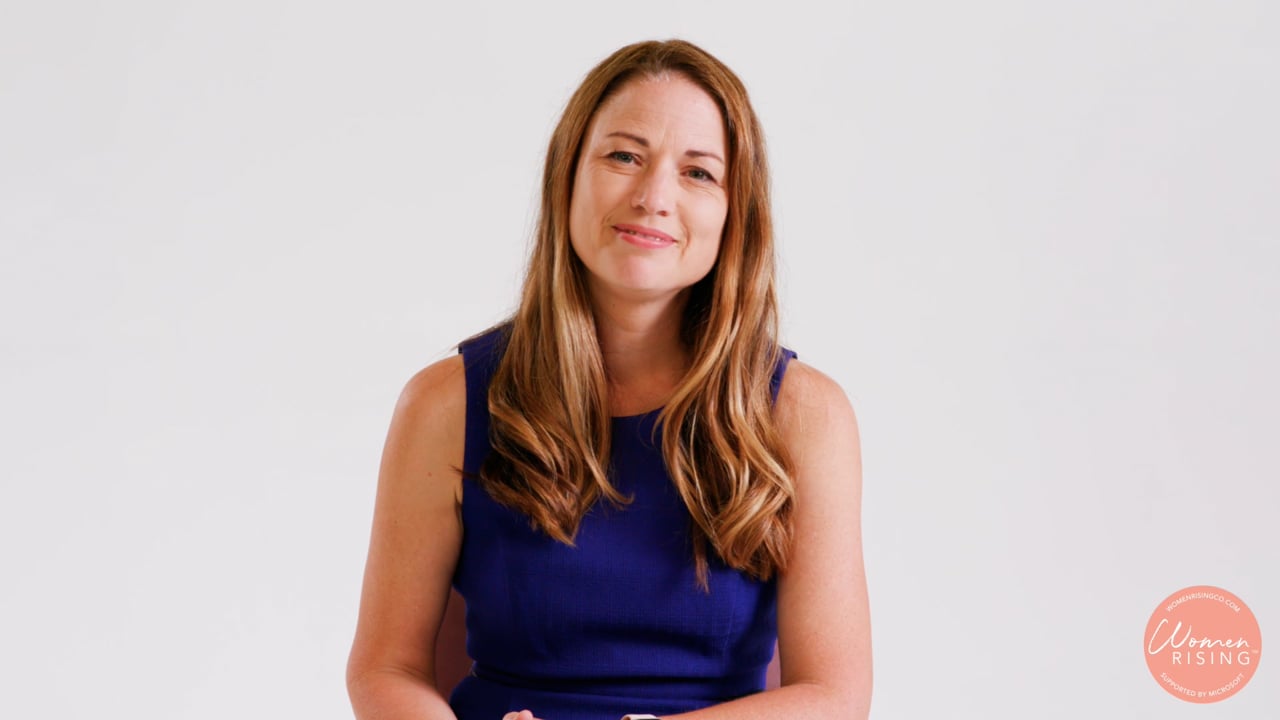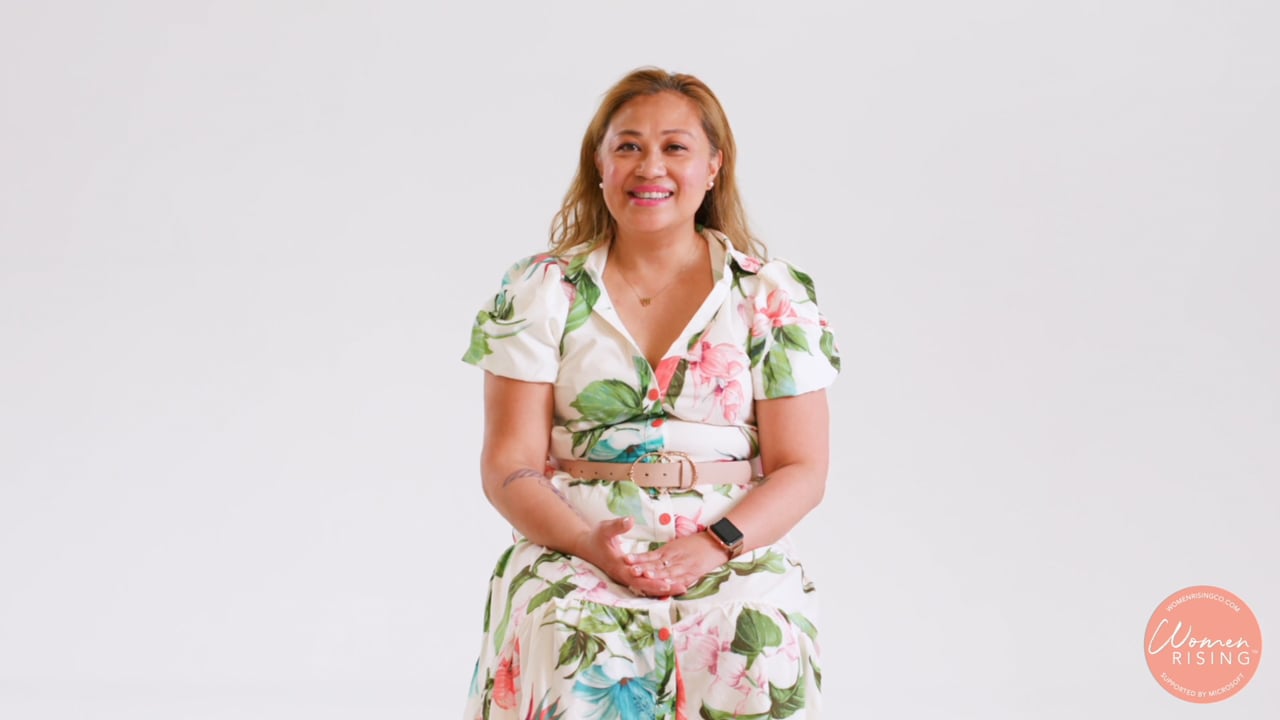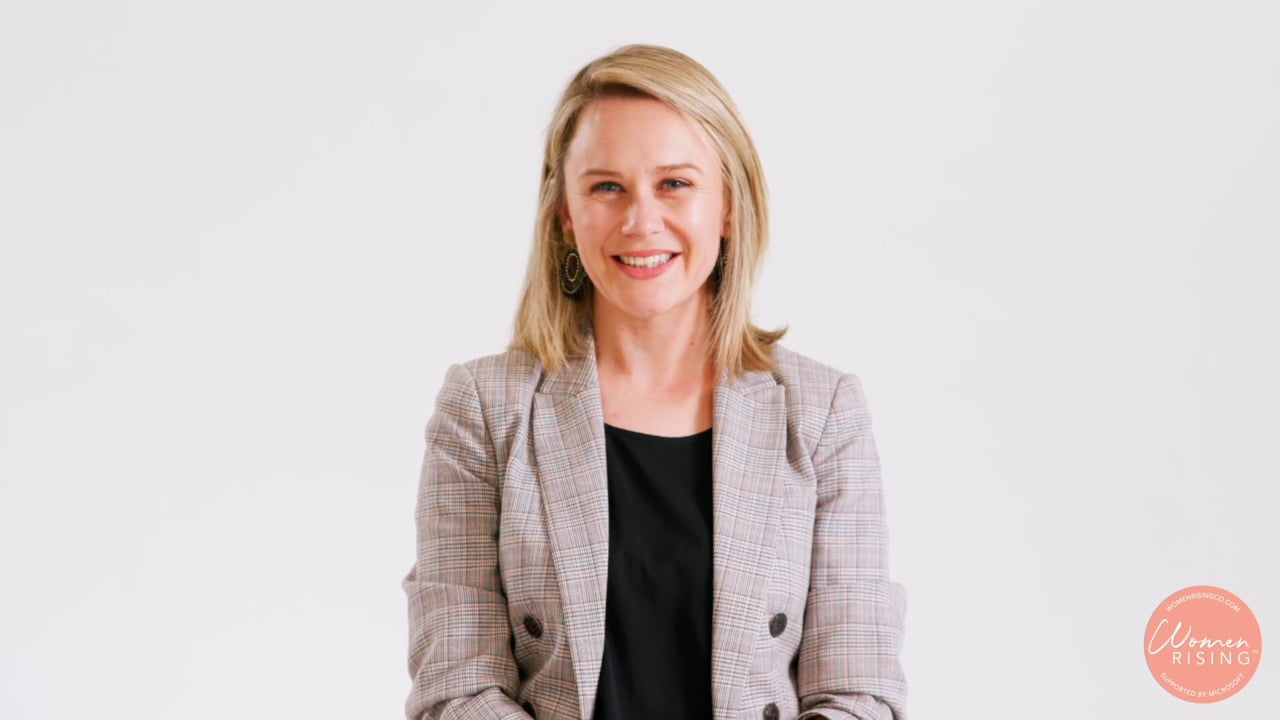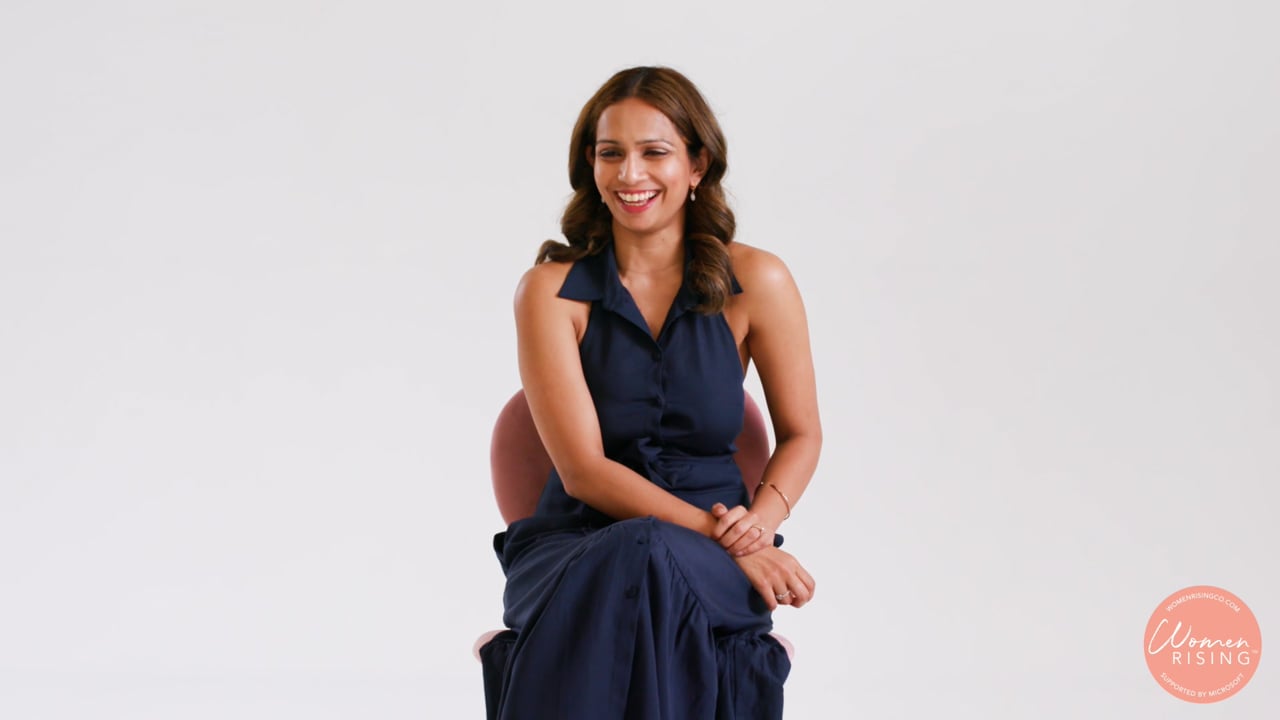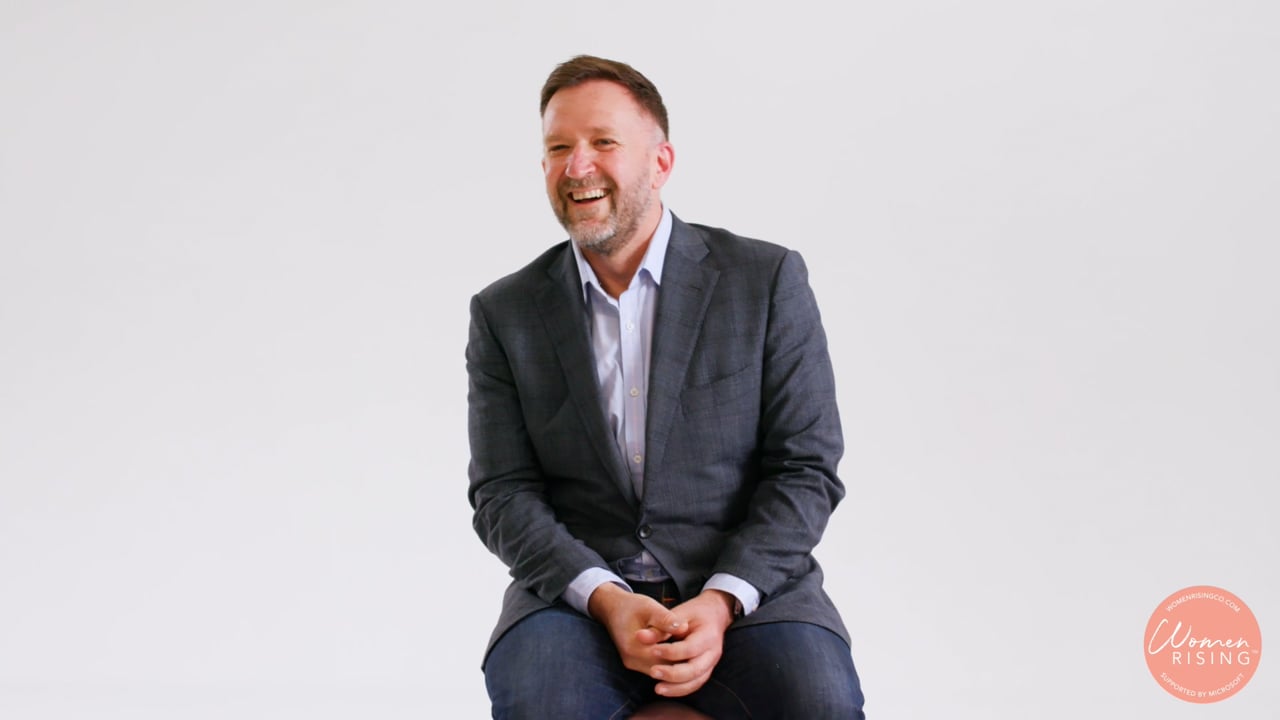 "I speak from personal experience when I say that this program is life changing and will give the female talent in your organisation the confidence and tools to help them achieve more than they ever thought they could. Having recently completed the Women Rising program myself, I cannot recommend it highly enough. It has changed my mindset, the way I look at leadership and most importantly it has made me realise what I am truly capable of as a female leader. We know from other women at Microsoft who have completed the course that it significantly increased their career clarity and confidence, enabled them to become more authentic leaders, and improved their influence and impact by developing greater levels of grit, wellbeing and resilience."
Asia Digital Sales Director, Microsoft Australia
"I have described this course as life-changing. I am an experienced HR practitioner in the workforce for 30 + years and I learnt new ways of working and looking at life. What a wonderful course just for women. I immersed myself in the modules and in doing so learnt new skills that I am applying in both my working and personal life. I feel like a better version of myself, thank you!"
HR Business Partner, Fujitsu Australia Limited
"I feel like I was driving in the dark and suddenly, the headlights have been turned on. I can now see the direction I'm going and I have a plan to get there. There were traits I possessed but I didn't know I had them or how to use them. This program has helped me to identify who will help me along the way and has also given me the confidence to lift other women up so they can feel as I do about career development. I'd highly recommend this course and will definitely be promoting it among my circle of women."
Ethical Sourcing Manager, Blackmores Limited
"The Women Rising program has made me question beliefs about myself and my career that I have held onto for years out of familiarity and comfort and challenged my thinking on many fronts. It has helped me identify, shape and sharpen my vision and purpose and given me practical tools to help me achieve my purpose daily. I love that it is a holistic approach to me as a person (rather than only my professional persona). The program has given me tools to become more of my whole and best self in all spheres of my life. I couldn't recommend this program highly enough."
Employee Experience Change Manager, Crown Resorts
"This course takes you on the most amazing journey of self discovery for your career and your personal life. It has helped me to become a better version of myself as a person and as a leader. You will be connected with the amazing Megan, a cohort leader and beautiful group of women on their own journeys. Those connections will help you unlock the many gifts throughout the program. I look forward to becoming a cohort leader in the next round to help other women on their journey."
Marketing and Partner Manager, Zetta Pty Ltd
"I wanted to take a moment to express my sincere appreciation for the impact the Women Rising program has had on my life. Through the lessons and playsheets, I was able to learn new skills, gain confidence in myself, and build inner strengths that have allowed me to succeed in ways I never thought possible. The program provided a safe and welcoming environment that allowed me to connect with others who were on a similar journey. I felt supported and encouraged every step of the way, and I made lasting friendships that have enriched my life."
"This program has been fantastic. The quality and depth of the content is significant and so many of the topics resonate. The content and exercises have helped me develop a personal scorecard and roadmap for my career. I also appreciate the networking opportunities this program has provided and highly recommend anyone to expose themselves to this information and become really intentional about their career evolution. Thanks Team!!!"
Senior Principal Account Delivery Executive, Microsoft
"The experience of doing this program was overwhelmingly positive. I very much enjoyed the design of the material and the way the information and concepts built up in layers. I learnt a lot and I also valued the cohort discussions and the honesty with which everyone shared their stories. I got to practice speaking in ways that are uncomfortable for me, but knew I had a safe space to work in. I've already found that I am more ready to speak up, put myself out there, and look after myself better in small ways every day."
"Loved, loved, loved this program. From each individual module to the coaching call to my cohort call, it was a fantastic experience."
"The Women Rising program is one of the most powerful and effective development programs I have ever participated in. I can honestly say that the learning from this course will be long lasting and the content will be revisited as I continue to grow."
Platform Solution Partner Team Lead, Interactive
"I highly recommend this program. It has given me the tools to become more confident and understand my value as a leader, to not hold back and go for gold."
Cloud Solution Architect, Microsoft
JOIN THE WOMEN RISING SEPTEMBER 2023 PROGRAM
"I have always had an idea of what I want to do in my life and what would give me happiness. But I also have done a fabulous job telling myself why I can't work towards that goal at any given point in time. To be honest, if I was asked if I wanted to be in a coaching program, I'd have been skeptical. But this was a program I did not know I needed."
APAC Research Lead, DXC Technology
"Go for it... get into this... there are some amazing insights that will wakeup your inner consciousness to live this life the way you should be living - smarter and happier."
Senior Business Analyst, FiveP
"This program is great in the way it is structured to develop yourself and brings women together from all over the world who surprisingly share similar stories. I highly recommend it for all women, regardless of which point in their career they are at."
Customer Delivery Manager, Optus
"I am a female co-founder with an all male executive team and board. I have experienced great frustrations of not being heard, or being victimised by the interpretation of being aggressive when contributing to important business decisions. The Women Rising Program has provided me with numerous skills and insight that has equipped me with a greater level of understanding to not only my own style of interaction/communication, but the impact on me of unconscious bias. These insights have supported my ability to recognise behaviours with objectivity. I really valued this program and have referred so many other women who I felt would definitely benefit. The most significant learning for me, was my responsibility as a mature professional woman to support other women with their own awareness, but most importantly to support the men I work with their own unconscious bias. Really powerful!"
Director / Co-Founder, JESI Management Solutions
"I really wasn't sure what to expect from this program but I am so grateful to have been a participant. I have learned so much more about myself, not only by the course content but with the open and honest collaboration in the coaching calls. I have realised I am not alone and other women go through similar scenarios in their career path / leadership. I would highly recommend ALL women to attend this course."
Manager, Service Delivery & Operations, Vodafone
"This program has been a game changer for me. My overwhelming learning is to live life more purposefully and intentionally. I have more clarity around my strengths, the value that I can bring and what is important to me. I highly recommend this program to any woman who is ready to experience a positive change."
Senior Client Manager, NTT
"This program is a must for all female leaders looking to get more clarity about themselves, who they are and what they want, to be able to show up more authentically and lead with confidence. The structure with videos / podcast, play sheets to work through the topics and reflect, small group coaching calls and large group forums is fantastic. Megan exemplifies that doing this work can reward you greatly. Thank you Dayle Stevens for the recommendation and Capgemini & Microsoft for providing me the opportunity. I will pay it forward in as many ways as I can.."
VP, Sector Lead Energy, Utilities, Resources, Capegemini
"I have thoroughly enjoyed the varied topics discussed in this program. It has definitely made me think and made me aware of a lot of aspects of myself and my goals, my mindset, my approach to things and opened up a world of opportunities to consider that would result in a 'better', more equipped, more aware version of ME. Also enjoyed hearing about people's experiences on the community forums and the coaching calls. Absolutely recommend this course...don't think about it JUST DO IT."
Business Analyst, Fonterra Ltd
"This program covers all aspects and is not just about leadership, it is so wholesome!!! Uncovering things that you least asked yourself about. Every module is like peeling the onion skin off the true you and is an amazing experience!"
Head of Mid Market, Oracle Corporation Singapore Pte Ltd
"This program has given me back the confidence I had when I was younger starting my career. I have found my energy and understand how to manage it, so I can turn up as my best authentic self. Thank you, I loved it!."
Consulting Manager, Provoke Solutions
"This is a really wonderful program that supported me in my personal as well as professional journey. It helped me to boost confidence, be intentional about my wellbeing and learn through other's inspiring stories."
"The Women Rising Program is truly life-changing. Having undertaken many leadership and professional development programs, I was nervous that it may cover topics that I had experienced before. However the way that the modules are delivered, coupled with coaching calls and cohort sessions, meant that it is a truly unique experience. I got to learn about myself, my peers and hear firsthand the commonalities that women face from so many different perspectives."
Manager - Procurement, Operations & Governance, APA Group
"It's not often we give ourselves permission to focus on ourselves and really explore personal growth, particularly as women. This is a completely supportive, educational and enlightening program and forum that helped me reevaluate how I can deal with my strongest critic - myself. I feel enabled and empowered to be the best version of myself, and build and strengthen relationships at all levels. I am learning to be proud of my achievements, and to continue to thrive."
Customer Experience Manager, Datacom
"This program has been life changing for me. This program has been one of the most impactful program that I have ever participated in. It took me through an amazing journey of self discovery and can confidently say I've emerged as a better version of myself as a person and as a leader. I highly recommend the program to my fellow women colleagues, to experience this amazing journey of self discovery."
"Reflecting on the past six months, I can confidently say I have a very full toolbox that will be of significant use as I navigate my career and personal life. Megan and her team have curated an exceptionally well run program: the modules are clear and easy to follow and the coaching calls/cohort sessions intertwined have been invaluable. Although I am sad to have come to the end of this program, I am so excited to evolve my skills and continuously reflect on how far I've come since joining Women Rising. The community is made up of strong, talented, beautiful women who will support you throughout. Thank you Megan, and thank you Women Rising Team. This is an incredible program."
Product Consultant, Datacom
"I entered this program to think about myself as a leader and personal brand. What I gained was so much more awareness of self, the way I act and present myself, and so many areas I have no idea impacted me. The program helped me explore so many important areas of self and working life. I look forward to my ongoing exploration of all of this information, and doing what I can to mentor others and help drive change gradually where I can supporting others."
Organisation Change Consultant, Strant Consulting
"Thank you for an amazing opportunity to grow in my personal and professional life. The program has been amazing on so many levels! I love that the program looks at our life holistically. That in our leadership and career evolution it makes complete sense that we bring our whole selves to all that we do and the program teaches how to balance that. I've learnt so much along the way and am grateful that we have lifetime access to the content as there are so many modules I'm excited to revisit and delve further into or to check-in when needed. What a wonderful cohort of women to have shared this journey with. We built trust in sharing our experiences and have learnt so much from one another as we supported each other through the program. I highly recommend the Women Rising program to anyone, no matter where they are on their career journey."
Partner Development Manager, Datacom
"I hadn't heard about the Women Rising program before, and am now passionate about spreading the word about it. The program is suitable for women at any stage of their career, and has given me so much to work with for my professional and personal development. I've built confidence, become more self aware, and have also thought about how I'm going to use what I've learnt to develop the next generation of leaders within my organisation."
Head Of Data and Analytics, BlueScope
"The most amazing program that I have been part of! It was great to meet so many people who were down to earth and willing to share their experiences. A bit sad that the program has now come to an end."
"I loved this program. It's a really great way of making you stop and analyse why you think and act the way you do. Hugely valuable insights and tools for a wide variety of aspects of self development."
Head of Operations, Clear Point NZ
"A positive and eye-opening experience, with plenty of food for thought. Thanks so much for a great course."
"When I started the Women Rising course I had just resigned as a General Manager and accepted a Partner role with a Big 4 Firm; I was terrified and excited. It was perfect timing as I went through my vision and purpose and prepared to introduce myself again and again (it was speed dating the first 2 months of my new role, all on camera due to lockdowns). Knowing what I stood for, what my values are and what I'm passionate about was part of what got me invited to be a partner; the Women Rising program helped me take that to the next level."
Partner in Technology Consulting, EY
"This program is immensely beneficial if you want to define your life vision, want a deeper understanding of how your values and strengths can bring out the best in you, and to discover your own path to lead authentically with grit and grace to bring about a systemic change.
For businesses, economies, and communities to thrive, we need to develop leaders who lead authentically, support diverse thinking and gender equity. This program will help women to discover their strengths to lead with authenticity, and will help to develop a growth mindset, which in turn will bring about a systemic change in business and society."
Senior Manager, Ernst and Young
"I started my career 20 odd years ago and have always been in male dominated workplaces and high performing work cultures. I have worked every day to prove myself time and time again, to stand out or be recognised for my effort and contribution. If I didn't quite fit in - then I would over think, over plan, and over achieve to compensate. Perfectionism in the workplace was a mask I wore. The Women Rising program has shone a spotlight on some of my disordered thinking and made me reassess what I want out of my life and career and reset to achieve that in a way that is more authentically true to my personal values and beliefs."
Marketing Manager, Satalyst
"This program has definitely been an eye opener. There were truths about myself that I may have known but did not want to confront. It gave me the opportunity to think about them deeply, acknowledge them, and allow myself the permission to take pro-active actions."
Marketing Specialist, Synnex Australia
"I have loved the Women Rising program and the most profound thing for me was when it all landed that the leading change piece is leading the gender equality and diversity movement. And that it really is a revolution that we have a powerful role in that and it's up to us. How empowering and inspiring! Thank you Megan and to all the participants that shared so generously and authentically!"
Head of Consulting, Fujitsu
"This program has been a true eye opener for me and no matter how many years experience you have, you can still overcome challenges and develop your career. This program has given me the confidence and tools to be my authentic self and the determination to achieve more than I was allowing myself. It also provided me with the insights with regard to identifying and being aware of gender biases and gender traits, and the challenges we as women have to break through to carve a pathway to success."
HR Recruitment Lead, Theta
"I really enjoyed the content, structure, format and approach of the Women Rising Program. The content was insightful, challenged me on a personal level, re-iterated wellbeing considerations that we know but don't prioritise and it all came together seamlessly across the 8 modules. The balance of structured content, self reflection & playbooks, small cohort discussions and broader group coaching calls gave optimal opportunity to embrace the learnings individually and in group settings. I have already applied some of the tools explored during the course and have successfully moved ahead in the next chapter of my career. The course is pitched for women at all levels and I have recommended several colleagues put themselves forward for the next program."
General Manager IT, Fonterra
"Joining this program gave me newfound confidence within myself and in my career. It has given me a lot to think about and made me recognise my self-worth! Having that sense of community amongst other women is really encouraging and it reminds us all to be easier on ourselves and give ourselves the praise we deserve! Amazing program - thanks, Megan!"
Marketing Coordinator, Stott Hoare
"This program hits the perfect balance between deep thinking, concrete tips and feel good vibes."
Senior HR Advisor, Provoke Solutions
"Great program with a great bunch of ladies! Both informative and enjoyable. Thank you!"
Head of Agency, Ingram Micro NZ
"Women Rising is a fantastic program and an eye-opening, research based fountain of information."
Senior Manager, PwC Cloud & Digital
JOIN THE WOMEN RISING SEPTEMBER 2023 PROGRAM
"I was jobless for 2 years after I gave birth to my second child, and going back to the IT industry was a challenge because I knew that I was no longer up to date with the latest technologies. When I went back to work, I settled for easy tasks and didn't want too much responsibility, because I felt like I wasn't as technical as I was before. This program made me realise that I'm the only one stopping myself. I was able to meet working moms like me who are great leaders and successful in their profession. And this inspired me to become my own leader, study and improve my technical skills, and helped me balance work and motherhood. I'm now working towards improving my technical skills, being the best version of me at work, and balancing my motherhood life."
IT Helpdesk, ICOMM Australia
"I absolutely loved being part of this journey! The content and structure of this course is amazing and I thoroughly enjoyed the time I carved out each week to listen to the coaching calls and focus on my personal growth. I can't recommend the Women Rising program enough and have already nominated a number of colleagues to enrol in the next program intake."
Technology Management Consultant, EY
"The program was a truly amazing journey and I enjoyed every minute of it. I learned so much, not only about myself, but I have also learned many new concepts that help explain the present and shape the future and got to know many amazing women. Thank you Megan for making all of this possible!"
Technical Team Manager, Realtech Ltd
"I joined the program initially to make my lovely HR manager happy. I had no idea how much impact the program would have on me and my colleagues. I am more aware of people's feelings, both men and women. I am able to pick up on the self doubt and lack of self confidence and am able to share what I have learnt in this program to assist others. I am also a lot more conscious of my own well being and have taken steps to improve it. The most important thing that I have taken out of this program is how I can lead the change in a more impactful manner. Thank you...It has been a thought provoking, enjoyable and life changing program."
Senior Data and Analytics Consultant, Servian
"The Women Rising Program has been thought-provoking, eye-opening, and life-changing. The breadth of topics, the structure of the program, and the lifetime access to materials means I can't wait to go back again and again to see how my thinking has evolved and how I'm changing for the better."
Head of Strategy & Venture Design, AGL
"This program is a hidden gem. My mother always says to me, "You are different and special". In all the years of growing up, we lose ourselves to work, responsibilities, family and so on and we unconsciously start to undermine our own potential, lose our authenticity, lose our health both mental and physical, and our confidence. The most important thing I have learnt from this program is to always remain authentic and to love, appreciate and take care of myself."
"For me personally, the greatest impact of the program was the ability to really think about my vision and purpose for my life versus only my career.
It encouraged me to take a giant pause and evaluate where I am and who I am in this season of my life and career. It made me question beliefs about myself and my career that I have held onto for years out of familiarity and comfort and challenged my thinking on many fronts. It helped me identify, shape and sharpen my vision and purpose in a way that is relevant today and gave me practical tools to help me stay true to this vision and purpose daily."
Technical Specialist, Microsoft
"I really enjoyed the program. The course structure is very comprehensive and covers many important elements that helps me in both my career and personal life. It also provides a safe space to discuss and share your thoughts and experience. I am more aware of my strengths and weakness and I have more clarity on long term goals and how to achieve them. I would highly recommend all women to join this program."
Power Platform Solution Architect, 365 Mechanix Pty Ltd
"This isn't one of those American style self-help Tony Robbins style programs. And it also isn't a burn your bra feminist program. It's very much a game-changing leveler for all women.
My life is largely about helping others. I've not had the confidence or mindset to put myself first, ever, personally or professionally. This program has changed that. I now see that if I put myself first, everything, and everyone in my life will benefit. And I won't be holding myself back. I've gained so many new tools which I can use professionally and personally. I'm so much stronger professionally now, I feel I can confidently lead as well as inspire others. I can also confidently pursue and create higher opportunities for myself. Thank you Megan. This program is amazing as is your support and wisdom, and that of the wonderful network of amazing women who I now know."
Regional Senior Service Delivery Manager, NTT
"My director offered for me to attend this course and I was unsure if it would interest me or be of any benefit. Well I can report it was definitely beneficial not only to me personally but also to the company. I took the time to stop and acknowledge my abilities and my new found confidence and awareness is enlightening. The topics were engaging and relevant to me and I believe would be the same for any women wanting to explore the best of themselves. Well done Megan to you and your team."
Partner Relationship & Programs Manager, Taleka Asia Pacific Pty Ltd
"This has been an amazing journey. I really enjoyed every single module and the program framework supported the discovery and development. Not to mention amazing work and engagement delivered by Megan and her team. I am super grateful to have been a part of it. Thank you very much!"
Marketing Programs Director, Cognizant
"The Women Rising program helped me to understand my strengths, how other people view my strengths and have confidence in what value I can bring."
Head of Solutions, The Missing Link
"The program gave me clarity of what I had been subconsciously dealing with throughout my management career. I now understand that what we as women work harder for is a part of societal norms and it's ok to take a breath, relax in my own skin and know I am enough!"
"Whether it's for your career or your personal life, I would definitely consider taking this program as it provided me with information, guides, tools and really great examples of how to use them to better myself, which for me was about confidence. With each module, I have had an "aha moment" or two. The coaching and cohort calls have helped me understand that I'm not alone in this and I could ask for support and even provide support. I feel I have had a voice."
Partner Alliance Manager, DXC Technology
"I enjoyed the journey throughout the program as it was a great platform to connect with lot of women from different backgrounds and to learn from their thoughts and experiences. The Radical Confidence module resonated deeply. It opened my eyes to understand that I will be most confident if I am authentic rather than suppressing my original self."
Senior Full Stack Developer, Coates Hire
"I started this year feeling much the same as always, unsure and a deep sense of not really belonging in my chosen career path. I ended the year with newfound confidence, new energy and the 2021 Women in Technology award. I am excited for the future and where my career will go next. Not only did I learn to quiet the inner critic inside me, I have learnt that my strengths and traits make me perfect for the work that I do. I prioritise my wellbeing and am confident in my success, knowledge and the value of the skills and knowledge I have to give."
Director / Co-Founder, JESI Management Solutions
"This program is amazing. Not only do you spend time with women from all walks of life with a huge wealth of knowledge and experience, but the simple tricks and changes you can make from Megan's teachings are really life-changing. I'm usually a bit of a skeptic, but this program brought me clarity on what I want from my life and career and provided me with a set of tools that I can use to make those plans into reality. I cannot recommend it enough and I think all women - and the men supporting women in the workplace - should do this course."
Director of Post-Merger Integration, Moxion/Autodesk
"This program has something for everyone. It touches on every aspect of leadership and career development I could think of and more. Whatever stage you are at in your career, there is something for you."
Client Executive - Education Sector, Microsoft
"The Women Rising program is an opportunity to search your soul, discover new things about yourself, and most importantly, how to achieve your vision and goals. The lessons may not always be comfortable (I found a few quite confronting) but they are vital and will help all participants become more confident in themselves and who they are. I can see only good things coming my way as a result of participating in this program, and I would highly recommend it to others."
Senior HR Manager, Alturra
"A rich program, beautifully constructed, tri-dimensionally woven by Megan with great skill, wisdom and care. The cohort calls were really good complements to the online learning and also filled with fun and support from the wider cohort. The coaching sessions with Megan were inspiring.
This was a space where it was ok to discuss confidence, ability to drive change, authentic leadership, career and gender bias. A space where we learnt about grit and grace. We learnt that change starts with us and were given the tools and the support to make the change."
Cybersecurity Practice Manager South Island, Datacom
"Women Rising has been a great opportunity to connect with other women and share our personal experiences, challenges and perspectives both in the context of the program and more broadly. I gained new tools and perspectives as well as timely reminders of practices I should have in place."
Business Central Lead, SOCO
"What a beautiful program for women to guide, teach and lead authentically. I'm so grateful that I am part of a revolution on elevating humanity, and of course women, in work and play."
APJ Alliance Lead, DXC Technology
"Women Rising program was a great self paced mode of leadership coaching with all the support from the team. This has definitely help me to seek more clarity, prioritise what is important and how to build confidence."
Chapter Lead - Digital, Telstra
"Loved this program - it's the best leadership program I have been on and is truly transformative. If you do the work, you will transform."
Field Marketing Manager, Telstra
"Thankful to be given an opportunity to pause and reflect and concentrate on myself for a change. It made me realise that a lot of things that I was doing during my day didn't serve my life purpose so it's really helped me to focus and take action on things that matter most to me and will make an impact on my life."
"Women Rising has delved into so many fundamental aspects of living well and working well. With the supportive network of wonderful women I have connected with during this course and the excellent course materials in my toolkit, I feel empowered to make many positive changes in my life."
Compliance Manager, Telstra
"Women Rising has been pivotal in helping shape my future with strategies to excel in my personal & professional life. The modules are insightful and give real world practical tools, which are combined with excellent support through hands on coaching calls with Megan and an in-depth cohort circle for active mentoring and group connection"
Head of Customer Success, Archistar
"I have never done a self-development program before so this was an eye-opening journey for me. I liked how the modules all linked and built off one another and had really great frameworks and tips. The cohorts allowed us to be vulnerable with each other and allowed us to hear other stories and insights of how we were going. I always left my cohort discussions feeling inspired! I recommend this course for other women, especially those at the beginning of their career (like me!) as it helps you to grow both personally and professionally."
Business Sales Analyst, Vodafone NZ
"The program has helped me gain confidence in myself. Althought not technically a people manager, I am a senior member of a team and do have to lead and lead by example. The course has given me confidence to do this in a way that lets me hold onto my values but also showcase my talents and show people what I am capable of. Before I would be the "quiet achiever" who would work away in the background and not sing my own praises or let anyknow know that "I helped do that", whereas now I'm not afraid to showcase work that I've contributed to. I'm more confident in my abilities to be the senior team member, speak up where needed and initiate where required. The program has given me so many tools to aid this, both in my personal and professional development - and has given me more than I thought it would. Thanks Megan!"
Senior Business Analyst, Fonterra
"The program brought into focus the journey we are all on raising the big issues and concepts which, with life being so busy, rarely get the time they deserve. They are thought provoking topics and the content of this course unbundles them in a way which will resonate with every professional woman. It has forced me to take stock of where I am at and what is important, where I want to be, and what I have to acheive to get there."
"I was not sure what to expect when my company enrolled me in this course as I had not heard of it before. I was pleasantly surprised to find how useful it was and how many of the scenarios and topics I was learning about resonated with my work and personal life. It was also great to be in a forum where I could share my experiences with others who had been in a similar situation or frame of mind and know that I am not alone!"
"One of the best programs I have been part of!!"
"A fantastic leadership program that provides a safe environment to learn and share and provides the framework and tools to address challenges and build on strengths."
General Manager Enterprise
"This course has been my "happy place" for the past 6 months and I have looked forward to each lesson."
Senior Project Manager and Team Lead, Enlighten Designs
JOIN THE WOMEN RISING SEPTEMBER 2023 PROGRAM
"For me, the Women Rising program has been a catalyst for positive change. Having tailored programs specific to women is critical particularly in a male dominated tech industry, and supports us to find meaning and purpose not just in our careers but in all facets of our lives. When I reflect on my biggest learnings of the program I realise that early on in my career I was very self-critical. It's the small things and micro-habitual changes I have adopted through this program that have helped me immensely. I've learnt to be my authentic self and be OK with that!"
"Having a more masculine personality I have struggled my whole life with how people perceive me. I am strong but people see me as a bully, and I didn't realise until this program why. I now have the tools to counteract this and support others who may feel the same.
I also never realised how often I repeat myself and this is usually because I don't feel heard. Understanding this allows me to conciously think of my words and rephrase them so I can ensure I feel heard and if I still do not, I have the confidence to speak up."
Business Solutions Developer, Anspired
"Women Rising have been an exceptional journey that opened my eyes on barriers that I have been creating for myself and areas where I didn't have clarity on. The community calls were excellent support system throughout the past months. I highly recommend the program. I have better clarity, confidence and awareness to support my career and other women. The playsheets were great way to reflect on every module and be vulnerable. I am grateful for this opportunity."
Customer Success Director, Microsoft Canada
"The Women Rising program has been a breath air fresh air, such a empowering and positive experience that I would highly recommend to all women. It has provided me with the tools and confidence I needed at this point in my career and overall life to progress and live a life in line with my core values and beliefs."
Support Co-ordinator, Woodville Alliance Ltd
"It was fantastic to make time and think about things you don't usually spend time on, and it's the hard questions, so trusting your stream of consciousness to find out what lies beneath in terms of your vision and purpose - spit balling and writing whatever comes up, trusting - it's challenging!"
Senior HR Advisor, Holmes ANZ LP
"We think other people know us better, but after this program I strongly realise that we are the best person to know our true selves, and we must be patient with our pace to grow."
"The Program clearly communicates expectations and steps to be taken for the deliverables. The program is well structured and thorough instructions avoid confusion and allows the participants to adapt the process and enjoy the journey."
Recruitment/HR Specialist, Theta
"The program is definitely intended to empower women and to identify their current professional and personal needs. I am more than happy to be a part of this program."
Senior Security Consultant, DXC Technology
"I have actually loved this programme. Extremely insightful - I feel buoyed for the future."
Account Director, Microsoft UK
"This program has been wonderful and super fulfilling. The quality and depth of the content is unmatched, and the content is thoughtfully pulled together so it is relevant to our lives. It was great to learn of commonalities and differences that women face from across the world. The networking component is excellent - met so many talented individuals from all different industries and backgrounds. I would absolutely recommend this program to anyone, regardless of where they are in their career journey!!"
Supervisor, Business Applications, RSM US LLP
"Anyone considering this program who is a little unsure I would say jump in and give it your all. I've learnt so much about me and what I really want from life (not just my career). The other women in this program are all amazing and super supportive. Sharing life experiences is eye opening and made me feel that I'm not alone. This is not a 'once and done' program but something I will take with me and revisit regularly over the coming months and years. No matter where you are in your career this is a program for you."
"As an early-in-career female, I feel privileged to be surrounded by so many incredible women. Learning from the coaching calls was valuable in the sense that the same struggles I face as an early in career, many experienced women faced too. Women rising equipped me with the tools to extend my career and lead with confidence."
Channel Manager, Microsoft
"A program well worth doing. There are a lot of issues and complexities that women face in the workforce and it's great to gain some insight and tools to help deal with those. It's also fantastic to be exposed to other women, particularly in IT and to be able to converse and share each other's stories."
SAP Consultant, SoftwareONE
"Women in Rising has been a great learning experience. Enjoy this journey by recognising your own strengths, your vision & purpose, building confidence and finally how you can impact & drive change one step at a time. Amazing women sharing their experiences throughout the program is a bonus."
Strategic Client Executive, DXC
"This is such a powerful program designed specifically for women and issues that women resonate with and deal with on a daily basis. It raises topics that make you self reflect on things happening in your life that you may not have even considered before and gives you the tools to overcome obstacles you may encounter as a woman rising through the ranks of any organisation."
Service Desk Team Lead, Centorrino Technologies
"I have really enjoyed the Women Rising program. It has been a journey of self discovery that has enabled me to discover new ways of approaching challenges in all aspects of my life. It has changed how I judge myself and the value that I offer in both my personal and professional life. I would highly recommend taking this course."
Procure to Order Product Owner, Fonterra Co-Operative
"I came into this program unsure of how I would go. But I really do see its value. It was great to engage with other women and understand their challenges and their successes. It really made me focus on myself, think about how I engage with others and to believe in myself more."
State Sales Manager, Ingram Micro
"I have come to understand all the little bits of me that make me tick, and have embraced who I am wholeheartedly."
"The program has boosted my confidence level, alleviated any self doubt of my capabilities and allowed me to be my authentic self without compromising my well being."
Senior Program Manager, Microsoft
"The sessions are well structured. They slowly build up your understanding of life both professionally and personally. I will come back and re-visit these sessions again and again."
Associate Manager, Accenture
"I joined this program thinking I already knew a lot of the content but I was pleasantly surprised on how much I have grown and learned. This is a fabulous program for women and men! I think this will go a long way in schools in particular for young teenage girls, teaching them to respect themselves and remove any inner critics they may have embedded due to society, teaches you to create strong leadership skills! Thank you so much."
Project Manager, Icomm Australia
"There's a lot of interaction on the course, and you learn a lot from other women's perspectives and experiences. Together you are all on the same journey, but it is a personal journey of self-discovery, where you decide what you can take away from each lesson and apply them to your life.
I think the program would be great for men also, or having men within each company sit in on some of the conversations would have great impact as well."
Marketing Coordinator, Rapid Circle
"I wasn't really sure what to expect. I thought it was going to be more of a teaching only approach. After the first module, I realised that It's actually about you personally, who you are and reflecting on yourself in each of the different modules and learning how to accept, acknowledge and enhance yourself."
Principal Consultant, Rapid Circle
"This program gives you real life examples and makes you think about what/when/how you want to achieve. It also helps to build the trust in achieving goals rather thinking you can't do it or someone else is better than you, and to develop the confidence to stay strong, stay positive, speak up for yourself."
Technical Resource Manager, Clear Point NZ
"It was lovely doing this course live with a cohort of women, as opposed to having to complete solo modules of study alone. Some of the best information came out of coaching call discussions."
"Such an inspirational program with a very holistic approach to all aspects of a balanced life, not just focused on the career component. I will be re-visiting the content whenever I have the opportunity as it is so motivating and enriching."
Senior Partner Sales Manager, Adobe
"The Women Rising program has taught me to set boundaries so I can focus on what's truly important in my life. It has also helped me to develop wellbeing practices that have made a real difference in my life."
Account Manager, Insight Enterprises
"This program was an eye-opener, it taught me so much about myself. Who I was, who I am now and who I want to be. I would recommend it to any woman trying to find her place in the word and workforce."
Managed Services Coordinator, Centorrino Technologies
THESE WOMEN HAVE TRANSFORMED THEIR LIVES AND CAREERS.
CAREER, LIFE AND LEADERSHIP EMPOWERMENT
RESOURCES FOR WOMEN, ALLIES AND ORGANISATIONAL LEADERS
SIGN UP TO RECEIVE WEEKLY CONTENT STRAIGHT TO YOUR INBOX
Your privacy matters and your information is safe with us. We promise to never share your details.